Total profits hit by lower oil price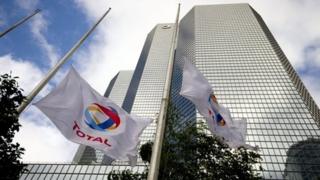 French oil firm Total has reported a 2% fall in third quarter net profit to $3.5bn (£2.2bn) on falling oil prices.
The price of crude oil has fallen by 25% since the summer.
Total also said its new chief executive, Patrick Pouyanne, will tour the Middle East, Europe and the US to meet key oil contacts and shareholders.
Mr Pouyanne was elevated to the role following the sudden death of executive chairman, Christophe de Margerie, in a plane crash in Russia last week.
Lower demand
Brent crude is currently trading at $86.32 a barrel, near a four-year low, and is forecast by analysts at Goldman Sachs to fall to as low as $80 a barrel next year.
The fall in the oil price has been blamed on an abundance of supply and lower demand, partly prompted by lower manufacturing and industrial production in China - the world's second largest consumer of the commodity.
Last Updated at 26 Sep 2017, 08:27 GMT
*Chart shows local time
price
change
%
45.43

-

-0.20

-

-0.44
Oil companies have seen billions wiped off their stock market values in recent weeks. Total chief finance officer Patrick de La Chevardiere said the impact of lower oil prices should start to be felt more strongly in the fourth quarter.
A $10 a barrel drop in the price of Brent crude translates into a $1.5bn drop in net profit over a year, he added.
Last week, Mr de Margerie died along with three aircraft crew members after his private jet hit a snow plough on the runway at Moscow's Vnukovo International Airport.
Mr Pouyanne said he was committed to continuing with Mr de Margerie's plan to reduce spending and costs in order to return more cash to shareholders.
"The recent decrease in the price of Brent highlights the importance of the programmes we launched to reduce costs and control investments to strengthen the resilience of the group," he added.
Total shares were 1.6% higher at €46.22 in mid-morning trade in Paris.
Mr Pouyanne will go on a mini-tour to meet shareholders in Europe and the United States before the end of the year. Another priority is to build contacts with key oil-producing countries.
Russia, which the French oil firm forecast in April would become its biggest source of oil and gas output by 2020, is expected to be high on the list of countries to visit.
Total is one of the top foreign investors in the Russian oil industry, but has faced a cloud over its future since the country's relations with the West soured over Ukraine leading to sanctions.