Retailer Next cuts profit forecast after warm weather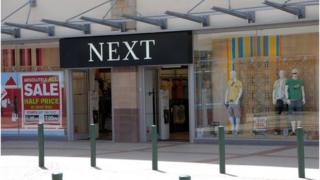 Retailer Next has cut its forecast for 2014 profit after a mild autumn reduced demand for winter clothing.
It now expects full-year profits to be between £750m and £790m, an increase of 8-14% but less than the £775m to £815m that it had previously predicted.
Sales for the three months to 25 October grew 5.4%, slower than the 10% growth expected.
Last month, Next's shares fell when it said that profits would be hit if the warm weather continued.
UK retail sales fell more than expected last month after the driest September since records began in 1910, according to the Met Office.
Last Updated at 22 Sep 2017, 15:29 GMT
*Chart shows local time
price
change
%
5140.00 p

+

+55.00

+

+1.08
Next said that a strong pound and a good sales record last year mean its sales are expected to grow at a more sluggish rate of 1% for the final quarter of the year.
Shares in Next fell 1.6% to 6,330 pence, the largest drop on the FTSE 100 index.
Slowdown
"Retailers often point to the weather as a means of explaining away poor performances when, in many cases, better planning could have averted much of the negative impact of adverse meteorological conditions," said David Alexander, a consultant at retail analysts Conlumino.
"In the case of fashion retailers attempting to convince consumers to invest in the latest cosy pieces from their autumn/winter collections though, unseasonably warm weather at this time of year can inevitably have a significant impact on demand."
Last week, figures from the Office for National Statistics (ONS) showed sales volumes fell 0.3% in September compared with the month before, which was worse than expected and the weakest figure since January.
Mild weather in September put shoppers off buying winter clothes, but sales were weaker in other sectors too.
Slow wage growth, falling house prices and global economic worries have raised concerns about the UK recovery.
Chancellor George Osborne has warned that the UK will not escape the slowdown in the eurozone economy.
Year on year, retail sales are up by 2.7%, the ONS figures showed.