Starbucks sales disappoint investors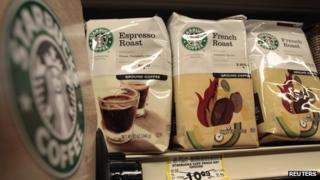 Starbucks' shares fell almost 6% in after-hours trading on Wall Street as investors expressed disappointment at the company's latest sales figures.
Although the world's largest coffee chain increased sales by 5% in the three months to 28 September, that was below analysts' forecasts.
The company said food and tea sales were strong in its main US market.
With rivals such as fast food chains offering more coffee drinks, Starbucks is increasing its product range.
During the three months Starbucks made profits of $587.9m (£367m) on revenues of $4.18bn.
"We grew traffic, but it was at a bit of slower clip," said Troy Alstead, Starbucks' chief operating officer.
Starbucks said it was rolling out its mobile ordering and payment system nationwide next year. Mobile payments now account for 15% of all transactions at outlets in the US.
The company is also investing heavily in promotions, including "Starbucks for Life" passes.
The figures came on the heels of disappointing news from breakfast rivals McDonald's and Dunkin' Donuts parent Dunkin' Brands.
In September, Starbucks said it would buy out its Japanese partner in a deal worth $914m (£559m).
Starbucks Japan has been a joint venture between Starbucks and Sazaby League since 1995.
Under the deal Starbucks will buy the 60.5% stake of the Japanese unit that it does not own.