UK manufacturing growth at three-month high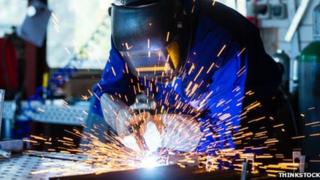 UK manufacturing activity grew at its fastest pace for three months in October, despite a sharp fall in export orders, a survey has indicated.
The Markit UK manufacturing Purchasing Managers' Index (PMI) rose to 53.2 in October from 51.5 in September. A figure above 50 indicates growth.
Despite the rise, export orders fell at their fastest pace since January 2013.
Markit said "a near stagnant" eurozone economy was to blame for the drop in export orders.
The strength of sterling against the euro also hit sales, Markit said, while some firms also mentioned slower growth in other key markets, such as the US and China.
'Mini-recovery'
Markit said the pick-up in overall growth, a sharp turnaround from September when the sector grew at its slowest pace for 17 months, mainly reflected the resilience of the UK market.
The PMI survey also found that average output prices rose at the slowest pace in 16 months.
However, the number of jobs created in the industry accelerated in October, with staff numbers up sharply at small and medium-sized businesses, but steady at larger firms.
Rob Dobson, senior economist at Markit, said the October report was a "positive marker" for the start of the final quarter, and called the performance "a mini-recovery" for the sector.
"It is positive to see the sector break its recent sequence of slower growth. Continued growth of employment, especially at SMEs, suggests that the recovery in the labour market is holding sway," he added.
Economists said the performance was better than expected.
"Exports are important to the manufacturing sector, but the majority of output is produced for domestic consumption. In that respect, continued high levels of confidence among UK consumers and plenty of evidence that domestic demand is growing at a robust rate is good news," said Martin Beck, senior economic advisor to accountancy firm EY.
Ms Lee Hopley, chief economist at EEF, the manufacturers' organisation, said the sector looked "pretty resilient".
"With domestic demand providing a good boost to production levels across a wide base of manufacturing activities, we should see the sector post its seventh consecutive quarter of growth in the final three months of this year," she added.