Morrisons supermarket suffers another sales fall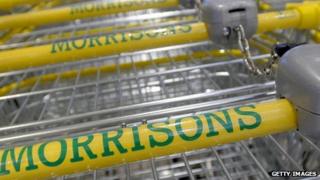 Supermarket Morrisons suffered a 6.3% fall in sales in the three months to 2 November compared with a year earlier.
The fall, which excludes new store openings and fuel sales, comes as the big supermarket chains face intense competition from discounters.
Morrisons has embarked on a three-year restructuring plan to save £1bn, and in June announced 2,600 job cuts.
Chief executive Dalton Philips said he was "encouraged by the further progress we have made".
The 6.3% drop in like-for-like sales was less steep than in the previous two quarters of 2014, when the fall was 7.1% and 7.6%.
Last Updated at 24 Oct 2017, 10:33 GMT
*Chart shows local time
price
change
%
231.80 p

-

-0.40

-

-0.17
The group's total sales, excluding fuel, were down 3.6%.
Discount chains such as Lidl and Aldi are eating into the market share of big supermarkets, including Tesco. On Thursday, Danish discount chain Netto announced it was returning to the UK in a joint venture with Sainsbury's.
Morrisons, the fourth biggest UK supermarket chain, has begun price-matching the discounters. Mr Philips said Morrisons was the only major chain to do this.
Analysts said that there were early signs that the restructuring strategy may be working, and Morrison's shares rose 6% in early trading on Thursday. However, the shares have fallen 40% in the past year.
Richard Hunter, head of equities at Hargreaves Lansdown Stockbrokers, said: "Whilst it is too early to say whether Morrisons throwing down the gauntlet to the discounters will succeed, the current picture is one of a beleaguered supermarket within a tough sector."
But he added: "There are some indications of progress - the financial stability mentioned at the interims seems to have been maintained given the group's capital discipline, the 'Match & More' scheme is a clear statement of intent, and the roll out of convenience stores remains on track."