National Grid and Berkeley Group to develop new homes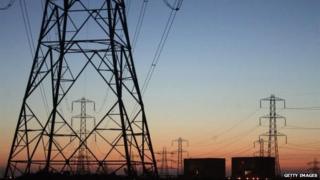 The company behind the country's power lines, National Grid, and the housing firm Berkeley Group have agreed a deal to develop 14,000 new homes.
The joint venture, called St Williams Homes, will use disused land owned by National Grid, mainly in London and the South East.
The new properties will be built over the next 10-15 years, with the first ones becoming available in 2017.
National Grid also announced that its pre-tax profit rose 16% to £1.14bn.
"By bringing together Berkeley's development expertise with National Grid Property sites, we hope to transform redundant land that was once at the heart of the industrial revolution to meet the housing and commercial needs of the 21st Century," said Steve Holliday, chief executive of National Grid.
Berkeley's managing director, Rob Perrins, said the agreement was "good news for homebuilding".
Each firm will own a 50% stake in St Williams, which will have £700m in funding, making it one of the top 10 housebuilders in Britain by turnover, the companies said.
Commenting on National Grid's earnings, Mr Holliday said the company was "on track to deliver another year of strong overall returns and asset growth".
"We continue to provide good value and strong reliability for customers while keeping our element of bills as low as possible," he said.