Carney takes aim at bankers' pay in wake of scandals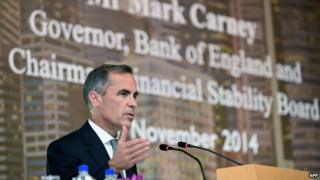 Bank of England governor Mark Carney has said it is time to look at clawing back the overall pay of bankers in the event of wrong-doing.
Speaking in Singapore, he said the claw-back should cover all pay, not just bonuses.
Mr Carney also said more had to be done to "help rebuild trust in financial institutions".
It follows revelations last week about fixing foreign exchange markets. This was no different to stealing, he said.
Pay was one of the main factors that put quarter-on-quarter reward before long-term stability and ethical behaviour, the governor said in his address.
"Standards may need to be developed to put non-bonus or fixed pay at risk. That could potentially be achieved through payment in instruments other than cash," Mr Carney said.
He acknowledged that there had been considerable efforts made to fix "the fault lines that caused the last crisis", but insisted more needed to be done: "The succession of scandals mean it is simply untenable now to argue that the problem is one of a few bad apples. The issue is with the barrels in which they are stored."
"It is vital that our sons and daughters are taught not that financial crises are inevitable, but that they are both avoidable and tremendously costly for jobs, growth and prosperity," Mr Carney added.
The governor was speaking in his capacity as chairman of the Financial Stability Board. The international body recently set out plans to force major global banks to hold more capital to prevent the need for more taxpayer-funded bailouts in the future.
Tougher
The British Bankers' Association declined to comment on Mr Carney's speech.
MPs who sat on the now-disbanded parliamentary commission on banking standards said in a report published on Monday that significantly more bankers should be subject to tougher rules on pay.
Only "material risk takers" are subject to possible claw-back of bonuses under existing rules, they said.
Andrew Tyrie, former chairman of the commission, told the Financial Times it was vital that "traders and other staff that can cause serious harm have 'skin in the game' for longer".
Meanwhile, shadow business secretary Chuka Umunna has called for "huge success payments" earned by bankers following corporate takeovers to be examined in more detail.
"We need greater transparency on the way people who advise on these transactions are rewarded," he told The Times. "We need to look at whether it is appropriate to have huge success payments for takeovers that incentivise advisers to complete a deal even if it might not be in a company's best interests."