China manufacturing activity hits six month low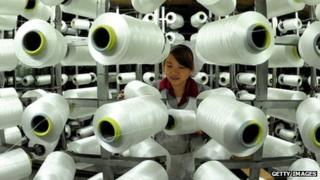 Activity in some of China's factories and workshops hit a six month low in November, a fresh survey has shown.
The preliminary data from lending giant HSBC, called the purchasing manager's index (PMI), measures a number of variables including new export orders.
It showed that factory output contracted in November for the first time in six months.
China's manufacturing sector is a key driver of its economy, which is key to global growth.
The preliminary PMI reading came in at 50.0 for November, down from October's reading of 50.4. A reading of below 50 indicates that factory activity is contracting.
November's reading was the lowest since May and compared with analysts expectations for a reading of 50.3.
The numbers add to speculation that China's communist government may introduce more stimulus measures, particularly after data released in October showed that the economy grew at its slowest pace since the global financial crisis.
Behind the numbers
The PMI data from HSBC, which measures smaller factories, together with official PMI data, which measures larger factories, is closely watched by analysts.
Tony Nash, global vice president of Delta Economics, told the BBC he was not surprised by November's figures.
"We expected this slowdown in China's PMI this month," he said, "and we have muted expectations for much of the first quarter of next year, with a likely seasonal pickup in February or March."
Chief China economist at HSBC, Hongbin Qu, said that disinflationary pressures remained strong on the mainland and that the labour market showed further signs of weakening.
"We still see uncertainties in the months ahead from the property market and on the export front [and] we think more monetary and fiscal easing measures should be deployed," he said.
In October, official data from China showed the economy had expanded at its slowest pace since March 2009, with gross domestic product rising by 7.3% in the third quarter from a year earlier, compared to 7.5% in the previous quarter.