Petrofac shares sink on profit warning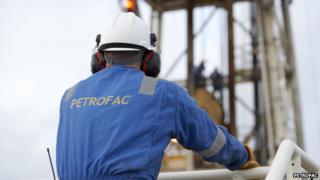 Shares in Petrofac have fallen by more than a quarter after the oil and gas services group warned that its profits are set to be lower than expected.
Net profits for 2015 are set to be around $500m (£319m), which is about $190m below analysts' forecasts.
The company also said net profit for 2014 will be at the lower end of its predicted range of $580-600m.
It blamed falling oil prices, changes to project timings and problems with a project in the Shetland Islands.
Last Updated at 20 Oct 2017, 15:21 GMT
*Chart shows local time
price
change
%
415.80 p

+

+1.80

+

+0.43
Those issues included a protracted union dispute, as well as bad weather that had resulted in 300 days of interruption to the project.
At close Petrofac shares were down 26.45%, or 315.50p, at 877.50p.
Oil prices have been falling since the summer due to plentiful supply, partly from US shale, and weaker demand in Europe and Asia.
Brent crude has fallen 34% since June to a four-year low of $76.76 a barrel on 14 November before recovering slightly.
'Grim picture'
Ayman Asfari, chief executive, said it had been a difficult period for both Petrofac and the industry.
"In the main our project portfolio is in good shape, but it is clear that on a small number of projects our execution has fallen short of the high standards we set for ourselves."
He added: "The medium-term growth prospects for our business remain strong."
Daniel Sugarman, market strategist at ETX Capital, said: "The firm has painted a grim picture for 2015, warning of an expected profits decline of around 25%.
"Falling oil prices, due in part to both a huge boost in US oil production and a decline in Chinese demand, show relatively little sign of improving drastically in the near future - something bound to affect Petrofac's bottom line."
The company said in August that net profit for the six months to June 30 fell $107m to $136m, with revenues down $300m to $2.5bn. Petrofac said that net profit for 2014 was significantly weighted towards the second half of the year.
Petrofac has more than 18,000 employees and seven operational centres including Aberdeen, Mumbai and Kuala Lumpur.