Homebase confirms store cuts as Battersea sells for £57m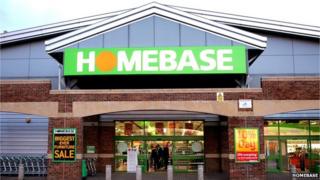 Home Retail Group has sold its Battersea Homebase store in South London to a residential property developer for £57m.
The firm, which also owns retail chain Argos, said it expected to close 25 Homebase stores by early March.
The move confirms plans, first announced in October, to cut its stores by a quarter over the next three years.
It is the latest of a host of UK firms to downsize in response to the growth of online sales.
The move is aimed at creating "a smaller but stronger business", Homebase said in October.
Like many retailers, it is facing a struggle to make its large-out-of town large stores work, when shoppers can now get their products delivered at the click of a mouse.
Last year, Kingfisher, the parent of rival DIY store chain B&Q, said it wanted to cut floor space by up to 20% across its stores.
One of the ways it planned to do this was by sub-letting some of the space in its stores to supermarket groups.
'Changing journey'
The shift reflects changing shopping habits with people tending to make more shopping trips but buying less each time, a pattern that favours small convenience stores above large superstores.
In the grocery sector, shoppers use convenience stores more than any other type of store format, according to food research firm IGD, which expects the sector to account for nearly a quarter of all food and grocery sales by 2019.
As a result supermarket groups - most of which have large presences in out of town shopping centres - are now struggling to make their large space formats work.
Last year, supermarket group Tesco bought the family restaurant chain Giraffe, in a move aiming at revitalising its UK business.
It plans to open outlets of the restaurants in ten of its largest stores - its Tesco Extra format - over the next few years.
"The consumer journey is changing. People don't want to travel to out-of-town locations to buy one small thing," says Verdict retail analyst Patrick O'Brien.
Mr O'Brien said the trend was sector-wide, rather than specific to a particular type of retailer.
"Because shopping habits are changing, "big box" retailing is falling out of favour," he added.