B&Q owner profits slump as French sales fall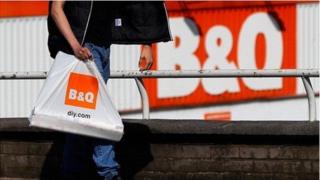 Kingfisher, the owner of DIY chains B&Q and Screwfix, has blamed "particularly difficult" trading conditions in France and an adverse foreign currency moves for a fall in third quarter profits.
The group said profit fell 11.8% to £225m with total sales down 3.6% in the 13 weeks to 1 November.
In France total sales fell 9.3%, but this was partially offset by a stronger UK performance where sales rose 4.8%.
It said it remained cautious on the outlook, particularly in France.
"Trading conditions in our largest and most significant market, France, were particularly difficult" said Kingfisher boss Sir Ian Cheshire, who steps down in December.
Sir Ian is due to be replaced by Veronique Laury - currently the chief executive of Castorama France.
The group blamed its weak performance in France, where it owns the Castorama and Brico Depot chains, on an "ongoing soft market".
It said consumer confidence, higher taxes and a "declining market" for housing and construction had all contributed to the steep fall in sales.
In the UK, it credited a "stronger UK economy and more buoyant housing construction" for its rise in sales.
The performance of its Screwfix chain was particularly strong, with like-for-like sales up 13.1%.
It said a combination of continued expansion, it opened 12 new outlets in the period, and new ranges had helped drive up sales.