US teen retailer Delia's files for bankruptcy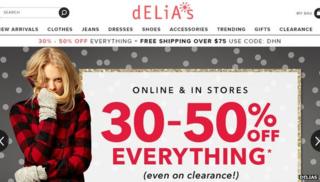 The once-popular US teen retailer Delia's has said it will liquidate all of its store and file for Chapter 11 bankruptcy protection.
The company has not reported an annual profit since 2007.
Delia's had announced in September it was looking for a buyer or strategic partner.
It is just one of many US retailers targeted towards teens that have struggled recently, such as Aeropostale and Abercrombie & Fitch.
Delia's currently operates 95 stores, as well as a website and a mail-order catalogue business.
It was launched in 1993 by two Yale graduates and rose to prominence for its strategy of directly marketing to teenage girls via its catalogue as well as its lifestyle website, gURL.com, which was eventually sold to Seventeen magazine.
Shares in Delia's - already in steep decline - fell more than 85%, on news of the bankruptcy filing, to less than one cent per share.
The company warned shareholders it "does not anticipate any value will remain from the bankruptcy estate".