Political risks shake global markets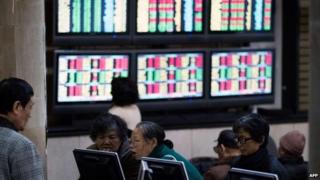 The big risks to markets and the global economy right now are political risks, or decisions by governments that spook investors.
We saw that first thing on Tuesday, with a drop of more than 5% in the price of shares on China's Shanghai stock market, seemingly prompted by a new restriction on how investors can borrow - which raised anxieties about the sustainability of the country's debt-financed growth.
Then the decision by Greece's prime minister to call a parliamentary vote to elect a new president was seen to increase the probability of the left-wing Syriza party winning power in a general election - which caused near panic among investors, because Syriza is so passionately committed to writing off Greece's still huge debts and abandoning the terms of its IMF and eurozone bailout.
That led to a massive 11% drop in Greek shares and a sharp fall in the price of Greek government debt - which then infected stock markets all over Europe and North America.
Nor was there respite for Brazil's stock market, which has now fallen 20% from its September peak - because it is so dependent on mining and the sale of minerals, the prices of which have been falling.
Also, the mess that is Russia's markets and economy became messier, as investors became anxious that - after a near 40% fall this year in the value of the rouble - President Putin will impose restrictions on the withdrawal of money or capital from the country.
Russia is heading for recession next year, partly because of the sanctions imposed by the EU and US as punishment for Putin's destabilisation of Ukraine.
But most of the Russian mayhem, and that in other energy-producing emerging markets, is linked to the 40% fall in the price of oil over the past few months.
The oil rout has big politics behind it too, with the refusal of Saudi Arabia and the OPEC oil cartel to cut back production to prop up the price.
These are hairy times, again.
And it is perhaps important, if not reassuring, that the trigger for the turbulence (as opposed to the underlying cause) is government words and deeds, rather than the madness of bankers, or data that tells us something scary about the financial fragility of the world that we didn't already know.