Hellmann's owner, Unilever, drops eggless mayo case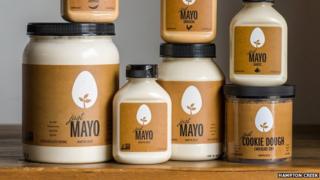 The company that makes Hellmann's mayonnaise is dropping its planned court case against an American firm that makes the eggless "Just Mayo".
Unilever had accused the firm, Hampton Creek, of misleading labelling.
Unilever said it had withdrawn its lawsuit so that the firm "could address its label directly with industry groups" and regulatory authorities.
Hampton Creek's boss replied that the firm "was founded to open our eyes to the problems the world faces".
"This moment has only validated why," Josh Tetrick's statement continued.
Just Mayo, which is sold in major supermarkets, including Tesco in the UK, is a vegan condiment and usually sold alongside traditional mayonnaise.
In a court filing, Unilever had previously said "Hampton Creek's literally-false name and its unsubstantiated superiority claims have already caused consumer deception and serious, irreparable harm to Unilever".
It was concerned about its labelling, which features an egg with a pea-shoot running through it. Unilever said this suggested that the product - which is made with canola oil, lemon juice and pea protein - contained eggs.
However in its latest statement Unilever said: "We applaud Hampton Creek's commitment to innovation and its inspired corporate purpose. We share a vision with Hampton Creek of a more sustainable world.
"It is for these reasons that we believe Hampton Creek will take the appropriate steps in labelling its products going forward."