Russia orders big firms to limit dollar holdings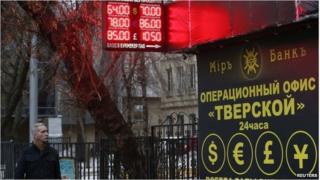 The Russian government has instructed five firms to limit foreign currency reserves as part of its efforts to stabilise the rouble.
Five of the country's biggest exporters have been instructed to reduce their foreign currency assets to October levels and not raise them until March.
Russian authorities have been trying to support the rouble which last week hit a record low against the dollar.
The rouble rose almost 1% on Tuesday, with a dollar buying almost 55 roubles.
Last week, a dollar bought more than 70 roubles.
Last Updated at 23 Mar 2018, 22:50 GMT
*Chart shows local time
$1 buys
change
%
57.2345

-

-0.01

-

-0.02
One economist said the latest measures were effectively a version of capital controls, designed to prevent foreign currency from leaving Russia.
"They have already forced government exporters to sell their dollars, and the same will happen for banks I guess, so in a sense, capital controls are already in place," said Sergei Guriev, an economist who fled Russia after criticising the Kremlin.
The firms affected by the latest measures are the energy companies Gazprom, Rosneft and Zarubezhneft, and diamond businesses Alrosa and Kristall.
Rating warning
Sliding oil prices and sanctions over Russia's stance on Ukraine have pushed the country towards recession and hurt the rouble.
On Tuesday, credit rating agency S&P said Russia might face a downgrade.
A cut in its current BBB- rating would demote Russian government debt to junk status, which would be a blow for Russian authorities.
S&P plans to make an announcement by mid-January.
Last week, the country's central bank raised its key interest rate to 17%, to help prop up the rouble.