How to make money despite the FTSE's 15-year losing streak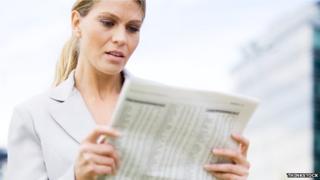 Fifteen years ago, on 30 December 1999, the FTSE 100 index of the UK's biggest companies hit its highest closing level ever - at 6,930.
Conventional wisdom says that anyone who invests in shares over such a long period can expect to make money.
But after two stock market crashes, the terrorist attacks of 9/11, and a euro crisis or two, the market has still not regained its 1999 peak.
Three times in 2014 the index came close, but each time fell back.
So on Christmas Eve the FTSE 100 stood at 6,610, still more than 300 points short of its record level.
On paper, it looks like the average investor will have lost money.
'White knuckle ride'
But remember that most shares pay out dividends.
On average, shares in the FTSE 100 yield about 3% a year, which is comfortably better than the best cash ISA, even allowing for tax free interest.
Indeed even though the capital value of shares in the index may have declined over the last 15 years, some dividends have grown healthily.
"Despite the FTSE 100 remaining below the level it achieved in 1999, the vast majority of investors should have made money over this 15-year period," says Rebecca O'Keeffe, head of investment at Interactive Investor.
She estimates that anyone reinvesting dividends would have generated an overall return of 60% since 1999.
Others put the figure at nearer 80%.
Thus an investor in BP would have lost 33% of their capital over the period, but would have gained 20% from reinvested dividends.
HSBC shares have fallen by 15% since 1999, but dividends have produced an overall return of 64%.
Even someone who invested £10,000 in the FTSE 100 at the worst moment, on 30 December 1999, would now be sitting on more than £15,000 with income reinvested, according to Laith Khalaf, a senior analyst at Hargreaves Lansdown.
"It has been a white knuckle ride at times, encompassing the tech crash, the global financial crisis and two bull markets," says Mr Khalaf.
"But despite all that, the equity market has delivered significant returns ahead of inflation for long term investors."
Equity returns 1999 - 2014
Investment
Capital value
Total return incl. dividends
BP
-33%
+20%
HSBC
-15%
+64%
Vodafone
-46%
+28%
FTSE 100
-3%
+72%
source: Rathbone
Small print
If dividends rather than capital growth have become more important over the last 15 years, investors are being warned to keep that in mind when selecting where to put their money.
Many experts advise the average investor to consider so-called tracker funds, which can be a lower-risk way of investing in the stock market and usually have lower management charges.
These are designed to follow the performance of a particular index, like the FTSE 100.
But not all tracker funds pay dividends.
Some are "synthetic" trackers, which use derivatives to make sure investors benefit - or lose - to the same degree as the index itself.
James Maltin, the investment director at Rathbone Investment Management, says some of these do not pay dividends.
He advises clients to buy "fully replicated" trackers, which actually buy shares from all the companies in the index, and which do pay dividends.
"Read the small print; check what you're getting," he says. "Fully replicated trackers are preferable."
Value of £10,000 invested on 30 December 1999
Index
No dividends
Dividends reinvested
FTSE 100
£9,137
£15,213
FTSE 250
£23,936
£36,306
FTSE All Share
£10,500
£17,206
source: Hargreaves Lansdown Dec 2014
'Beyond' the FTSE 100
The next advice is to think more widely than just the FTSE 100.
While it has been flat-lining, the index of the next 250 largest companies in the UK - the FTSE 250 - has soared.
In December 1999 it stood at 6,444.
Fifteen years on the FTSE 250 has passed 16,000.
According to Hargreaves Lansdown, someone investing £10,000 in a FTSE 250 tracker in 1999 would have more than doubled their money to £23,000 over the period.
If they had reinvested the dividends, they would have more than tripled their money, to £36,000.
The reason the FTSE 250 has performed better than the FTSE 100 is that it is more closely aligned with the fortunes of the UK economy.
Around 75% of the earnings of FTSE 100 companies are made overseas - with many having just a listing, and an office, in London.
"If you want to invest in UK PLC, then it really does make sense to look beyond the FTSE 100 to mid-sized and smaller companies," says Jason Hollands, managing director at Tilney Bestinvest.
"These tend to be more closely linked with the UK, which is faring considerably better than many other parts of the world at the moment."
2015 forecasts
For the FTSE 100 index to stage any substantial recovery, some analysts believe that sentiment towards energy and mining stocks will have to improve significantly.
Events in Russia, any continuing fall in the oil price, and the UK general election are likely to add extra elements of volatility.
As a result, investment banks are cautious about predicting any great advance in the FTSE.
Brewin Dolphin believes it will end the year at 7,000.
Credit Suisse is one of the most optimistic, suggesting 7,300.
So it may be likely - although it is by no means certain - that the FTSE 100 will finally break its 15-year losing run in 2015.