City Link announces 2,356 job losses after rescue talks fail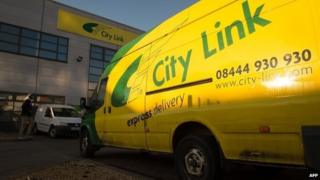 The administrators of collapsed delivery firm City Link have announced 2,356 job losses after a bid to buy the company failed.
The administrators, who took over City Link on Christmas Eve, said an unnamed consortium's offer was not acceptable.
The possible buyer "offered no money up front and significantly undervalued the assets to be acquired," they said.
Business Secretary Vince Cable said the government has put measures in place to help the affected staff find new jobs.
The Coventry-based company was founded in 1969 and employed 2,727 people, but suffered years of losses.
City Link was bought by Better Capital for £1 in April 2013 but the administrators from Ernst & Young say the £40m the investment company put into the firm was not enough to turn it around.
Just over 370 City Link staff have been kept on to deal with the parcels that remain at depots and help run down the business.
The administrators said they had proposed alternative purchase terms to the consortium "that would be acceptable and common in these situations. The consortium, despite attempts to make them reconsider, declined to amend their original offer".
Speculation about a potential rescue deal emerged earlier on Wednesday when Mr Cash disclosed that he had been told of "a credible bid to take over some or all of the City Link trading operations".
Following confirmation that the rescue had failed, Mick Cash, general secretary of the RMT union, said: "Pulling the plug on any efforts to save City Link is a disgraceful and cynical betrayal that will wreck the lives of our members, many of whom are owed thousands of pounds."
The mass redundancies would leaving a "trail of human misery", he said, adding: "Those responsible will slink away with their own resources ring fenced and leaving the taxpayer to pick up the redundancy tab.
"The City Link Christmas destruction is an act of industrial vandalism that shames our nation while the government looked on and offered nothing but hollow words."
The business secretary the announcement of job losses was "very sad news for the City Link workers and their families at a particularly difficult time of year".
Mr Cable said City Link's employees and self-employed drivers will be able to access a government service run by job centres and the support of skills bodies.
He added: "A Facebook page has been set-up to link-up companies holding suitable vacancies with those who have been made redundant, so if drivers can be redeployed into new jobs in this competitive buoyant market they will be."
Shadow business secretary Chuka Umunna said he was "very saddened" to hear the talks to secure a buyer had failed.
He tweeted: "City Link employees will quite rightly be furious at the disgraceful way in which they have been treated."
'No alternative'
The manner and timing of City Link's collapse have been criticised, including by two Conservative MPs.
One, former minister Damian Green, said: "The whole business has been handled very badly."
On Monday, Jon Moulton, founder of Better Capital, apologised for the impact on staff but said there was no alternative but to put the loss-making business into administration.
Hunter Kelly, one of the administrators, said in a statement on Wednesday: "It is with regret that we have to announce substantial redundancies at City Link Limited, which ceased accepting new parcels on 24 December 2014.
"The company endured substantial losses, which ultimately became too great for it to continue as a going concern, and City Link Limited entered administration following an unsuccessful sale process."
| City Link employees | |
| --- | --- |
| Location | Total employees |
| Aberdeen | 19 |
| Ashford | 24 |
| Bangor | 16 |
| Basingstoke | 25 |
| Beckenham | 23 |
| Beckton | 32 |
| Belfast | 23 |
| Bicester | 28 |
| Birmingham | 70 |
| Bournemouth | 32 |
| Bristol | 50 |
| Cardiff | 44 |
| Carlisle | 28 |
| Chelmsford | 48 |
| Coventry | 404 |
| Cowes | 4 |
| Durham | 56 |
| Edinburgh | 22 |
| Edmonton | 36 |
| Epsom | 22 |
| Exeter | 41 |
| Gatwick | 42 |
| Glasgow | 75 |
| Glenrothes | 22 |
| Gloucester | 32 |
| Guildford | 24 |
| Hatfield | 116 |
| Heathrow | 132 |
| Leeds | 1 |
| Leeming | 34 |
| Leicester | 1 |
| Lincoln | 25 |
| London City | 19 |
| London West Central | 43 |
| Maidstone | 48 |
| Manchester | 67 |
| Milton Keynes | 91 |
| Morley | 74 |
| Motherwell | 27 |
| Newcastle | 45 |
| Newmarket | 1 |
| Northampton | 47 |
| Norwich | 44 |
| Nottingham | 48 |
| Peterborough | 63 |
| Plymouth | 58 |
| Preston | 52 |
| Reading | 2 |
| Rotherham | 34 |
| Scunthorpe | 28 |
| Shrewsbury | 38 |
| Southampton | 33 |
| Stafford | 40 |
| Swansea | 30 |
| Swindon | 73 |
| Warrington | 115 |
| West Bromwich | 56 |