Federal Reserve rate rise before April 'unlikely'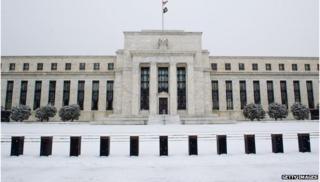 US Federal Reserve officials do not believe that they will raise the benchmark short-term federal funds interest rate before April, minutes released on Wednesday revealed.
During the central bank's December meeting, the Fed officials said a rate rise before then was "unlikely".
They saw the US economy continuing to extend its recovery.
However, they worried that international factors could pose risks for the domestic economy.
"Many participants regarded the international situation as an important source of downside risks to domestic real activity and employment," the minutes read, highlighting in particular declines in oil prices and weak economic growth abroad.
At the end of its two-day policy meeting last month, the Fed slightly changed the language in its statement, indicating that it could be "patient" in when it decided to raise interest rates.
The federal funds rate - which is the benchmark short-term interest rate - has been at 0% since late 2008, when the Fed slashed rates in an effort to boost the US economy in the wake of the US financial crisis.
However, now that the US recovery has taken hold, the Fed has indicated that it does not believe the extra stimulus will be necessary for much longer.
That has made investors and analysts jittery, wondering when the flood of so-called "cheap money" will come to a halt.
Any sign that the Fed would delay raising rates has generally cheered investors, who see low rates as a boost to US economic activity.
US shares rose slightly on the news.