UK interest rates held at 0.5% by Bank of England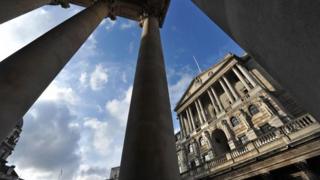 UK interest rates have been held at a record low of 0.5% for another month by the Bank of England.
The Bank also kept the size of its bond-buying stimulus programme unchanged at £375bn.
Low inflation, caused in part by falling oil prices, and concerns about economic recovery mean many economists see little reason for the Bank to raise borrowing costs.
Rates have been held at 0.5% for almost six years, since March 2009.
UK inflation fell to a 12-year low of 1% in November and is expected to fall further after the price of a barrel of Brent crude tumbled to below $50, from a high of nearly $116 in June.
Official figures last month showed that economic recovery during 2014 had been slower than previously thought, with GDP in the third quarter 2.6% ahead on the same period in 2013, down from an earlier estimate of 3%.
There is also concern about the eurozone, where inflation this week turned negative - deflation.
Policymakers at the European Central Bank have already cut interest rates to 0.05% and are now expected to start buying government bonds to stimulate the eurozone economy.
Last summer, there were growing expectations among some economists that interest rates could rise in the first quarter of 2015.
Rate timing
That now seems unlikely, although some experts believe that a rebound in wage growth this year and continuing falls in unemployment will lead to a rate rise at some stage.
Two of the nine members of the BoE's Monetary Policy Committee, Ian McCafferty and Martin Weale, voted for a rate rise between August and December.
The Bank will publish voting records and reasons behind it latest policy decision on 21 January.
Howard Archer, chief European economist at IHS Global Insight, said that he expected there to be at most one 0.25 percentage point rate hike in 2015.
He added: "There is clearly a very real possibility that the Bank of England will delay acting until early 2016."
However, in a research note, economists at Capital Economics said: "With the recovery showing signs of frailty and the chances of deflation growing, the MPC is under little immediate pressure to raise interest rates.
"But since lower oil prices should put the spring back into the recovery's step and underlying price pressures are stronger than the headline inflation rate suggests, we doubt that the MPC will wait until 2016, as markets now expect, to raise interest rates."