Honda fined $70m by US for failure to report deaths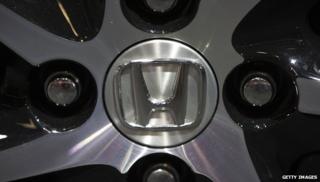 Japanese carmaker Honda has been fined a record $70m (£46.4m) by US regulators for failing to report deaths and injuries to authorities.
It is the largest civil penalty to date levied against a carmaker by the US government.
In November, Honda admitted that it did not report 1,729 cases involving deaths or injuries between July 2003 and June 2014.
The company said it would change its internal reporting.
Honda was fined two separate penalties of $35m each, one for failing to report deaths and injuries and another for failing to respond to customer warranty claims. Each of them is the maximum allowed by US law.
"Honda and all of the automakers have a safety responsibility they must live up to - no excuses," said US Transportation Secretary Anthony Foxx in a statement accompanying the fine announcement.