JC Penney and Macy's to cut thousands of US jobs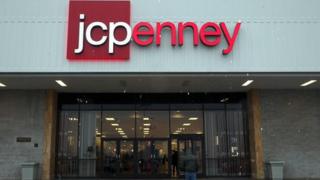 Two major US department store chains, JC Penney and Macy's, have announced plans to close stores and cut thousands of jobs.
JC Penney said it would close about 40 of its 1,060 stores by 4 April, with the loss of some 2,250 jobs.
Macy's said it would shut 14 of its 790 stores in the next few months, cutting more than 1,300 posts, although it also plans to open two new stores.
Both chains have been hit by the growth in online shopping.
JC Penney's latest closure plans come almost exactly a year after the announcement of its previous restructuring, in which it closed 33 stores and cut about 2,000 jobs.
Its chief executive at the time, Mike Ullman, is to step down in August and will be replaced by former Home Depot boss Marvin Ellison.
Earlier this week, JC Penney said its same-store sales for the last two months of 2014 were up 3.7% on the same period a year earlier, causing its shares to rise sharply.
For its part, Macy's said it expected to save $140m (£93m) a year thanks to its restructuring plan. Its two new stores would be in California, the company said.
It added that its November-December same-store sales were up 2.1% year-on-year.
Macy's also announced its previous closure programme a year ago. In 2014, it cut 2,500 jobs and shut five stores.