Safaricom cuts roaming charges in Europe and Africa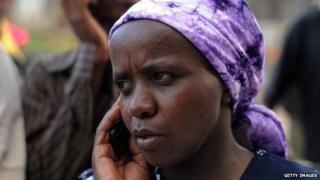 Subscribers to Kenya's largest mobile network are set to benefit from lower charges when using their phones in parts of Europe and Africa.
Nairobi-based Safaricom has signed agreements with international operators and governments which allow it to offer lower roaming rates in 21 countries.
The UK, Germany and Spain are amongst the destinations included in Europe.
Charges will also be reduced in Democratic Republic of Congo, Ghana, Lesotho and Mozambique.
The UK phone giant Vodafone owns 40% of Safaricom's shares. The Kenyan government controls 35%.
Following the agreement with Vodafone's affiliates, subscribers will be able to access 10 minutes of voice calls, 10 text messages and 10 megabytes of data for just 200 Kenyan Shillings (£1.45).
"That's a significant reduction. In most of these countries previously these call rates were about four times higher or more," said Bob Collymore, chief executive of Safaricom, speaking to the BBC.
Delayed deal
Notably, Kenya's neighbours, Uganda and Tanzania, are not included in this deal, despite being members of the East African Community (EAC).
EAC members have been working towards greater economic integration for the over 20 years with mixed results.
"Back in May last year the heads of state from...Rwanda, Uganda, southern Sudan and Tanzania agreed to reduce rates to a max of 10 US cents per minute," said Mr Collymore.
"So far we've implemented this with Rwanda and we're pretty confident we'll be able to do this with the other countries over the coming few months."
Mobile operators have come under growing pressure to cut the charges imposed when users travel abroad but still wish to use their phones for calls and accessing the internet.
In Europe charges have been sharply reduced after intervention from the EU.