Eurotunnel to sell ferry service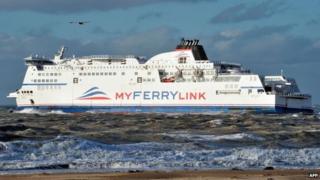 Eurotunnel is looking for a buyer for its MyFerryLink cross channel service after losing an appeal against a ban on operating the route.
The UK competition authorities ruled that Eurotunnel's share of the market was too big.
The chairman of Eurotunnel Jacques Gounon said: "This decision is illogical. It reduces competition...and is contrary to the interests of free trade."
MyFerryLink was set up when Eurotunnel bought three ferries from the old Sea France company in 2012, which increased Eurotunnel's market share from around 40% to 55%.
Good for competition
The ferry operator is run as a worker's co-operative set up by the old Sea France staff. The service runs 16 crossings a day from Dover to Calais and employs 600 people.
The Deputy Chief Executive of MyFerryLink, Raphael Doutrebente, told BBC Radio 4's You and Yours programme it will now go to the UK court of appeal: "This is just one battle and the war is not finished.
"MyFerryLink is completely separate from Eurotunnel because the French competition authority installed a Chinese wall between the two companies. Having three operators is very good for competition"
Artificially high
He said MyFerrylink was predicted to make a profit by 2016 but the co-operative wasn't in a position to buy the company from Eurotunnel.
The two other ferry operators on the channel are P&O and DFDS Seaways. MyFerryLink argues that demand is growing and there is room for them all.
But DFDS, which also bid for the Sea France assets, denies this saying it is losing ten million pounds a year on the Dover to Calais service.
Their Chief Executive, Niels Smedegaard, said it was too early to say if they would bid for MyFerrylink but added:
"We are of course pleased with the ruling today. The whole issue has been that there is so much capacity, when you combine all the companies, that very few people have made money.
"There will be no viable options for customers in the future unless some of the providers make money. This over capacity needs to be reduced."
"Prices have been lowered to attract customers and are creating artificially high passenger and freight numbers. The prices are unsustainable because we need to invest in vessels, training staff and so on."
The Competition and Markets Authority agrees saying that not all three ferry services can survive.
Alasdair Smith, Chair of the CMA's Eurotunnel Inquiry Group said: ""We are conscious of the potential effect of our decision on the jobs of the MyFerryLink workers. However, there will also be job losses if MyFerryLink remains on the route and another operator leaves."
Eurotunnel has six months to find a buyer, but the clock stops if an appeal is lodged.