Morrisons' Dalton Philips accused of 'butterfly thinking'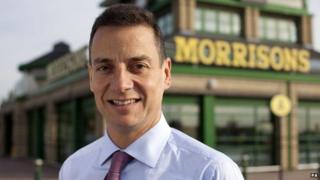 A former director of the troubled Morrisons supermarket chain has renewed his criticisms of the departing chief executive, Dalton Philips.
Roger Owen was the company's property director for 22 years until he retired in 2009.
On Radio 5 live, he accused Mr Philips of being responsible for "butterfly thinking" by the company's directors.
On Tuesday, Morrisons said Mr Philips would leave in March, after a period of falling sales and profits.
"My brutal assessment is that Dalton Philips should have gone at least two-and-a-half years ago," said Mr Owen.
In common with the other large UK supermarkets, Morrisons has suffered from falling sales and declining profits, due to competition from smaller discount chains such as Aldi and Lidl.
It has also been hit by the changing shopping habits of customers, prompted by the long squeeze on living standards.
As well as pushing Mr Philips out, the chain is bringing in a new chairman, Andrew Higginson, and closing 10 unprofitable stores.
'Not much profit'
Mr Philips joined Morrisons as chief executive in January 2010 and will leave at the end of March this year.
In the past, some investors have criticised him for being too slow in copying his rivals' moves into selling goods online and opening smaller convenience stores.
But on Radio 5 live, Mr Owen repeated his point that these strategies were either wrong or had been implemented badly, and that the company had been deflected into sideshows.
"We investigated all that [convenience and online] several times over the years and we concluded that in the case of online, there's not much of a profit, if any, in it," he said.
"Online is possibly a necessary adjustment, but it's not a be-all and end-all that Dalton Philips has made it.
"In terms of convenience, they've come to that, but almost in a panic. Location is everything and you look at a lot of the initial convenience stores that they opened, they are in the wrong place and they've overpaid on rents," Mr Owen added.
Polite disagreement
A spokesman for Morrisons took issue with the attacks launched by Mr Owen and defended its recent strategy.
"Unlike other retailers, we didn't have the big problems with delivering at Christmas and our service levels have been much better than the industry average," the spokesman said.
"Millions of customers are now using our M local convenience business, which didn't even exist four years ago.
"We obviously listen to our former directors, but on this occasion, we politely disagree with some of his comments," he added.
It is not the first time that Mr Philips has been criticised in public by the company's old guard.
At the shareholders' annual general meeting in 2014, the former chairman of Morrisons, Sir Ken Morrison, accused Mr Phillips and his directors of destroying the business he had inherited from his father, and demanded the chief executive's resignation.