Relief extended for poor with debts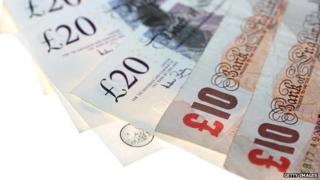 Hundreds more people considered to be "too poor to go bankrupt" will be able to use a system of personal insolvency.
Debt relief orders were launched in 2009, aimed at allowing people with low debt and few assets to enter insolvency.
This would allow them to escape a full-blown bankruptcy and the fees involved.
New rules unveiled by the Insolvency Service have increased the maximum amount of debt that can be covered by these plans, from £15,000 to £20,000.
This should allow 3,600 more people a year with problem debt to use these orders, the government said.
"Struggling with unresolvable debt can cause immense stress for families," said Business Minister Jo Swinson.
"These changes will ensure that our debt relief schemes are updated so that they still meet their original goal of providing access to those who need them."
Types of insolvency
Bankruptcy: The traditional way of escaping overwhelming debt. Ends after one year, but you are likely to lose all your assets, including your house, to pay something to the creditors
Individual Voluntary Arrangement (IVA): A deal between you and your creditors, overseen by an insolvency practitioner. Less stigma, less chance of losing your home, but involves paying some of your debts in one go
Debt Relief Orders: Introduced in April 2009, these now allow people with debts of less than £20,000 and minimal assets to write off debts without a full-blown bankruptcy
The move has been welcomed by debt charities.
"Currently, more than a third of our clients, many of whom are vulnerable, are too poor to go bankrupt," said Matt Barlow, of Christians Against Poverty.
"They have too much debt to access a debt relief order and they have too little money to afford bankruptcy fees. They are stuck - literally too poor to go bankrupt, which struck us as a real injustice."
The minimum level of debt that can prompt a creditor to launch a petition for somebody to be made bankrupt has also been increased from £750 to £5,000. These limits were last changed in 1986.
The latest official figures show that the rate at which Britons are becoming insolvent has fallen to its lowest since before the financial crisis.
In the 12 months to September 2014, just 0.22% of the adult population became insolvent.
That is the lowest rate since the spring of 2006, according to the Insolvency Service.