Economic growth 'dramatically' diverges between North and South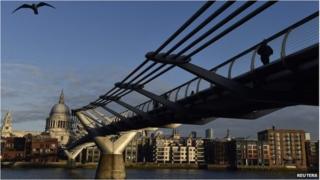 The gap between economies in northern and southern English cities has dramatically widened in 10 years.
A study by the Centre for Cities says for every 12 jobs created since 2004 in southern cities, only one was created in cities elsewhere.
It said overall growth had been mainly driven by southern English cities, but big Scottish cities had grown well.
The picture of an overall strengthening in the economy is confirmed by a new survey by the EY Item Club.
Threat
EY Item Club says low oil prices will fuel a major growth for the UK economy this year.
Its latest forecast predicts economic growth this year of 2.9% - 0.5% above both the most recent official estimate recorded in October and that predicted in Chancellor George Osborne's Autumn Statement, which was given in December.
The EY Item Club's chief economic adviser, Professor Peter Spencer, said prospects for the UK economy were a lot brighter than three months ago: "Falling oil prices provide a nice offset to the weakness of exports, but will extend our dependence upon the home market and leave the economy seriously unbalanced."
He warned that the weak eurozone remained a threat to growth.
Another survey, from the CBI, suggests financial services are benefitting from this economic pick-up. It found services had grown at the fastest pace since the mid-1990s.
Centre for Cities said that, in Scotland, Aberdeen saw bigger growth than Edinburgh, Glasgow and Dundee, largely, but not entirely, because of its proximity to the oil and gas fields in the North Sea.
The three Welsh cities performed slightly below the UK average, with Cardiff, Swansea and Newport falling behind the UK cities' average.
The Centre for Cities, which was set up in 2005 as an independent research organisation by Lord Sainsbury, said the number of jobs created in London rose by more than 17% between 2004 and 2013.
But in Blackpool, Rochdale and Gloucester there were falls of 10%.
This picture is mirrored by the pattern of business start-ups, with Swindon in the south seeing the creation of a third more businesses compared with a fall of 5.5% in Grimsby.
'Greater powers'
Centre for Cities says there is a danger smaller places could fall behind further as growth patterns become entrenched.
Acting chief executive Andrew Carter said: "The stark picture the report paints of the enormous gap in the fortunes of UK cities over 10 years underlines why a 'steady as she goes' approach must be scrapped."
The organisation wants more powers devolved to regions to help them create prosperity and ensure smaller places do not fall behind as core cities grow.
But the government's cities minister, Greg Clark, said: "This government's long-term economic plan is working right across the country.
"We know there is more to do and that's why we have given greater powers to 27 of the UK's largest cities through City Deals, and why we have committed a further £7bn to the North of England."