Morgan Stanley profit rises despite 'choppy market'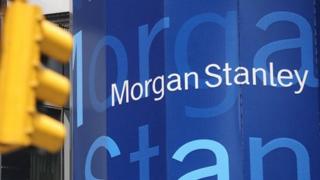 US banking giant Morgan Stanley has seen net income more than double after lighter legal fees relating to mortgage-backed securities.
Fourth-quarter earnings for 2014 were $903m (£596m), or 40 cents a share, compared with $336m a year earlier.
The bank's legal expenses were $284m, down from $1.4bn a year earlier.
However, the bank said overall performance had been affected by "choppy market conditions" in the quarter.
The bank's legal fees are associated with residential mortgage and credit crisis-era issues.
In the quarter, revenue from trading fixed income securities, currencies and commodities dropped 81% to $133m, excluding accounting adjustments.
However, revenue from the bank's wealth management business rose 2.4% to $3.8bn.
Morgan Stanley also increased pay in the fourth quarter, with its pay bill rising to $5.1bn from $4bn a year ago, after it brought forward some bonus awards.
"We finished 2014 in substantially better shape than we entered the year," said the bank's chief executive, James P Gorman.
He said the bank was now well positioned for the future.
"Entering 2015, we remain confident about our business mix, market position and the opportunities ahead of us," he added.
Morgan Stanley's shares fell 1.4% in early trading following the update.