Two are found dead at caravan park in Newcastle, County Down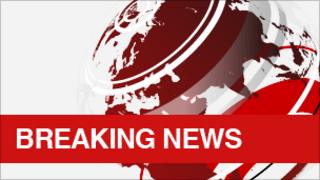 Two bodies have been found at a caravan park in Newcastle, County Down.
Police said they had attended a caravan site on Tullybrannigan Road in Newcastle at about 15:00 GMT on Wednesday.
They said bodies were discovered at a caravan on the site and a multi-agency investigation was now under way into the cause of the deaths.
South Down MP Margaret Ritchie said that she was shocked and deeply saddened to learn of the sudden deaths.
"I have been in touch with local police who have informed me of the discovery of two bodies in a south Down caravan site," she said.
"I understand that police are treating it as suspected carbon monoxide poisoning at this stage.
"I want to extend my deepest sympathies to the families of these two people who are undoubtedly going through a deeply traumatic and difficult time.
"I'm shocked and deeply saddened by this awful discovery."
A spokesman from the Health and Safety Executive Northern Ireland (HSENI) said: "HSENI is looking into the circumstances of a fatal incident at a caravan park in the Newcastle area."