Ukraine bailout 'sufficient to rebuild credibility'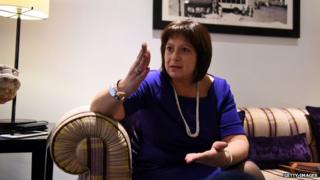 Ukraine's new finance minister, Natalie Jaresko, has said a proposed bailout package from the International Monetary Fund (IMF) will be "sufficient to rebuild credibility".
Ms Jaresko is at the World Economic Forum in Davos to drum up international support for Ukraine.
Speaking to the BBC, she said it would be an "enormous loss for the world" if Ukraine's finances failed to recover.
The country has been in a deep recession since the middle of 2012.
Economists have estimated that there is a $15bn gap in the nation's public finances.
Additionally, the protracted conflict in the east of the country has been intensifying in recent weeks, at a cost of up to $10m per day to the public coffers.
On Saturday, at least 20 people were killed and dozens injured in rocket attacks by pro-Russian rebels in the government-held port of Mariupol.
IMF support
Following a meeting with Ukrainian president Petro Poroshenko in Davos on Wednesday, the head of the IMF, Christine Lagarde, issued a statement that appeared to broadly support the country's request for further financial assistance.
"My understanding is the request has been approved," Ms Jaresko told the BBC, adding that the proposed bailout package would "enable us to meet our obligations".
However Ms Jaresko emphasised that a large portion of the package would have to be paid up-front, without the prerequisite of substantial economic reforms.
"I'm sure there will be prior actions that we will have to commit to before the first tranche comes through," she said, "but I expect all the prior actions to be things that we can do in one or two weeks."
Ms Jaresko said there were good investment opportunities in Ukraine and the country was a "perfect base for manufacturing", due to low labour costs and its proximity to the EU.
She added that she was confident of a diplomatic resolution to the bloody conflict with pro-Russian separatists.
"This cannot continue. This is war in the 21st century in the middle of Europe".