Aer Lingus considers new offer from BA owner IAG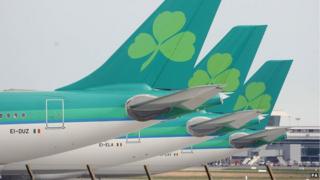 The Aer Lingus board is considering a revised €2.55 a share offer from IAG, the owner of British Airways.
The new €1.36bn offer, which follows two previous bids, would depend on the recommendation of Aer Lingus's board and both Ryanair and the Irish government.
Ryanair has a 29.8% stake in Aer Lingus, while the government owns 25.1%.
Aer Lingus had rejected two bids from IAG last year.
IAG's primary interest in the Irish carrier is its 23 pairs of take-off and landing slots at Heathrow airport - valued at about £30m apiece - allowing it to operate more flights.
Aer Lingus is the fourth-largest operator at Heathrow after BA, Lufthansa and Virgin Atlantic.
---
Analysis: Kamal Ahmed, BBC business editor
After rejecting the first two bids as "fundamentally undervaluing" the business, Aer Lingus is a lot more positive this morning about a possible takeover by International Airlines Group, the British Airways owner run by the combative Willie Walsh.
The Irish carrier said it is now "considering" IAG's third offer of €2.55 a share. The betting must now be on a recommended deal being put to the two major Aer Lingus investors (Ryanair and the Irish government) at some point this week.
Mr Walsh wants to ensure that IAG remains one of the major global players in world aviation. To do that he believes the business must expand - that was the reason behind the creation of IAG in the first place, which brought together British Airways and Iberia.
For small national carriers such as Aer Lingus, the fear is being left behind as the huge new Middle Eastern competitors - Etihad, Qatar and Emirates - take advantage of new hub airports such as Dubai and continue expanding at break-neck speed.
For Mr Walsh the argument is simple - expand or face the consequences. He believes British Airways, a major UK employer and the operator at the heart of Heathrow, will be stronger with Aer Lingus under its belt.
---
However, opposition Irish MPs have called on the government to veto the bid over concerns about the loss of connections between Irish airports and Heathrow.
The Irish cabinet is due to hold its weekly meeting on Tuesday, when the issue is expected to be discussed.
The Irish transport minister, Paschal Donohoe, said on Sunday that the government would examine how a takeover would affect Aer Lingus workers, its 79-year-old brand and competition on routes to and from Ireland.
The trade union representing most Aer Lingus staff said that a takeover could lead to the loss of up to 1,200 jobs - a quarter of the workforce.
'Hurdles remain'
A takeover may also face competition concerns from European regulators. If IAG was forced to sell some landing slots owned by Aer Lingus, it could undermine the rationale for the deal.
A research note by analysts at Jefferies, the investment bank, said: "Hurdles remain to Aer Lingus accepting IAG's revised €2.55 a share bid, but on balance we think a deal will get done.
"The deal would be positive for IAG, adding further growth avenues to the already exciting outlook, and for Ryanair shareholders, who could rightly expect a cash windfall."
However, Cantor Fitzgerald analyst Robin Byde said: "We are concerned about the politics of this deal and the potential for IAG to get dragged into prolonged and distracting negotiations."
Aer Lingus recently reported its strongest summer trading for several years, with operating profits up 19% to €112.9m (£88.5m) in the three months to 30 September.
Ryanair bought a significant holding in its rival during a failed attempt to buy the airline. Competition authorities ruled that a takeover by Ryanair might distort the market in flights between Ireland and the UK.
Shares in Aer Lingus rose 1.3% to €2.39 in late morning trading in London on Monday, but later slipped back to stand up just 0.5%.
IAG added 2.4% to 549p. The stock has risen almost a third in the past 12 months.