Flybe shares sink as profit forecast disappoints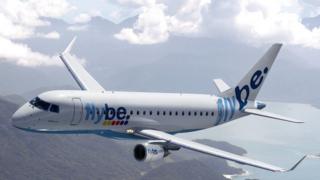 Shares in Flybe fell by more than a quarter on Monday after the Exeter-based airline said that annual results would be worse than expected.
The airline said it would be "around break-even" for the year to 31 March, after revenues fell 3.8% to £126.8m in the last three months of 2014.
Analysts had expected a full-year pre-tax profit of about £9m.
Flybe is 12 months into a three-year turnaround plan that has resulted in more than 1,000 jobs being cut.
Europe's largest regional airline, which has 67 planes flying 199 routes across 14 countries, has also cut many unprofitable routes.
Last Updated at 17 Nov 2017, 16:23 GMT
*Chart shows local time
| price | change | % |
| --- | --- | --- |
| 36.50 p | 0.00 | 0.00 |
The carrier reduced seat capacity by 6.1% to 2.5 million in the three months to 31 December, but pressure on fares meant passenger yields slid 5.2% to £67.65.
Flybe said that competition had increased on some of the six routes it had begun flying from London City airport last year: "We believe that this competitive pressure will extend the period of time that these routes take to reach maturity and deliver the full contribution we expect."
The airline has also cut an Inverness service to City airport due to poor demand and reduced the frequency of flights to Exeter, while adding capacity on the more popular Edinburgh and Belfast routes.
Analysts at Liberum have cut the forecast for Flybe's annual pre-tax profit from £8.8m to just £100,000.
'Tough environment'
Shares fell 26% to 67p, valuing the company at just under £150m.
The troubled company, which floated in 2010 at 295p, tapped shareholders for £150m in a rights issue in February last year.
Flybe also warned that it will not benefit from the recent fall in oil prices as its long-term hedging policies will be in force until the 2016-17 financial year.
Despite the poor results, chief executive Saad Hammad said the improvement in its core UK business continued. "We now have a platform which enables us to compete in a tough environment where the consumer demands value. We have responded to that by keeping our fares low and launching new routes."
Flybe will offer 20 new routes in the summer, including nine from a new base in Bournemouth and three domestic routes from London Stansted.