Easyjet expects first half losses to fall after growth in sales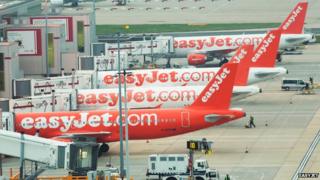 Economy airline Easyjet expects first half losses to shrink, helped by growing capacity and record number of business passengers in the first quarter.
The firm expects losses of between £10m and £30m in the first half of the year, compared with £53m last year.
It hopes to pass lower fuel costs on to passengers, it added.
Airlines and travel companies tend to make losses in the winter, making most of their profits during the summer.
"We further strengthened our network in the quarter adding around 500,000 seats, the majority of which are from airports where Easyjet has a number one or number two position," said Easyjet chief executive Carolyn McCall.
"This combined with our new TV ads aimed at business travellers enabled Easyjet to sell record numbers of seats to business travellers in the first quarter," she added.
Oil prices
Easyjet said it expects to pass fuel cost savings on to passengers, probably cutting around £2 off its average fare.
"EasyJet expects that lower fuel costs will be beneficial for its customers as fares adjust," it said.
Oil prices have fallen by more than half since the summer, and the firm expects its annual fuel bill to be between £90m and £130m less than it was in the 12 months to 30 September 2014.
Competitor Ryanair is also trying to attract more business travellers.
Ryanair has added new routes and boosted capacity, and has made moves to improve its customer service.
Its shares hit an all-time high this month after a surge in passenger numbers.