Foxtons hit by fall in property sales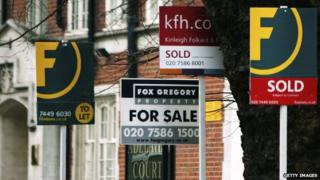 Foxtons, the high profile London estate agency, says its income from home sales fell sharply at the end of last year.
Commission earned on sales in the last three months of 2014 was 26% lower than in the same period the year before.
The agency explained that the London property market had been cooling off after reaching a peak of activity during 2013.
And it predicted that its sales would be unlikely to rise again until after the forthcoming general election.
"The long term fundamentals of the London market remain sound," it said.
"We do not anticipate a recovery in sales volumes until after the General Election in May."
Thanks to more buoyant sales earlier in the year, and rising income from its lettings business, Foxtons said its sales commission for the whole year would still be 3% higher than in 2013.