Airline wars - IAG plots Irish government charm offensive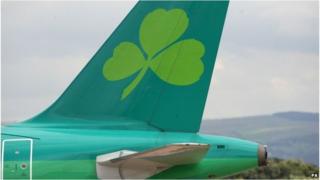 To all intents and purposes, Aer Lingus has recommended that a €1.36bn bid from International Airlines Group is accepted.
This morning, the former Irish state carrier said of IAG's third offer for the airline: "The Board has indicated to IAG that the financial terms are at a level at which it would be willing to recommend, subject to being satisfied with the manner in which IAG proposes to address the interests of relevant parties."
The sting in the tail is the last part of that sentence.
What does IAG - the owner of British Airways and Iberia - need to do to "address the interests of relevant parties" which in this case means Aer Lingus itself and its two biggest shareholders, Ryanair and the Irish government?
Concerns
Well, in order, here's what I believe to be IAG's game plan.
On Aer Lingus, IAG has revealed that the airline will remain as a separate entity with its own brand and own management.
That will allay concerns within Aer Lingus that IAG would swallow up the airline as it did with the old British Midland carrier, bmi. That loss making airline, formerly owned by Lufthansa, became part of BA.
And given that Aer Lingus has already been through a significant restructuring and is making money, any efficiency drive (and IAG's chief executive, Willie Walsh, is famous for them) will be limited.
For Ryanair, Michael O'Leary, the chief executive, will want to ensure that he receives the best price possible for his 30% stake.
But given that he is likely to be a willing seller following competition concerns over the size of his holding, IAG will argue that €2.55 a share is not too shabby.
Politics
Certainly, if the IAG bid falls, Aer Lingus's share price will rapidly retreat from its present €2.40 high.
So, that leaves the Irish government - which owns a quarter of Aer Lingus - and the trickiest hurdle of all.
With an election likely in the next year, opposition politicians in Ireland have already raised concerns about the deal.
And trade unions are also restless. Impact, which represents Aer Lingus pilots and cabin crew, has made its position clear.
For IAG, this is where the passengers, and Irish businesses, come in.
To gain political support, IAG knows it has to make the case that Aer Lingus within IAG is stronger than Aer Lingus on its own.
Mr Walsh is likely to argue that the number of flights in and out of Dublin will actually increase.
He wants to make the Irish airport IAG's third hub, joining an already packed Heathrow - and Madrid.
Mr Walsh will tell the Irish government when he meets them - as I am sure he will - that "connectivity" for Dublin will get better.
Bigger
The partnership with Iberia opens up Latin America. And the partnership with BA opens up Asia.
Dublin is already a significant player in the vital trans-Atlantic sector, a position that IAG will want to build on.
All that, Mr Walsh will argue, is good for the Irish economy.
Bigger is better has long been the mantra of airlines. With Middle Eastern carriers Qatar, Emirates and Etihad growing rapidly, Mr Walsh doesn't want to be left behind.
He hopes the Irish government will be persuaded.