Commercial aircraft demand boosts Boeing profits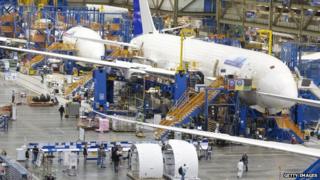 Aerospace giant Boeing has reported a 19% rise in fourth quarter net earnings to $1.47bn (£970m).
Boeing saw a strong performances in its commercial aircraft business, with revenues increasing 15% to $16.8bn.
The firm also made progress on curbing production costs for its flagship 787 Dreamliner.
However, defence revenue fell 14%, with a 29% decline in earnings from military aircraft.
Chicago-based Boeing and European rival Airbus have benefitted from a global shopping spree by airlines, helped by rising demand for travel and cheap financing.
Boeing saw 432 net orders for new planes in the fourth quarter, and 1,432 for all of 2014, pushing its backlog of commercial plane orders to nearly 5,800 with a record value of $440bn.
The firm also delivered more planes - 195 in the fourth quarter, compared with 172 a year earlier - helping to boost cash flow.
However, as defence budgets were squeezed, the company saw defence revenue fall 14% to $7.6bn. Around a third of Boeing's revenue comes from defence-related products.
Looking ahead, Boeing said earnings this year will be between $8.20 and $8.40 per share.