US Federal Reserve remains 'patient' on interest rates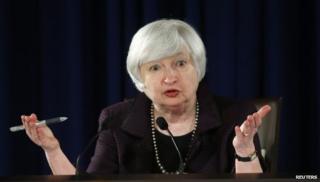 The US central bank has reiterated that it will remain patient in determining when to raise interest rates.
The Federal Reserve has kept its target interest rate at 0% since late 2008.
At the end of its two-day policy meeting in Washington, DC, the bank added it was watching "international developments" closely.
It noted that low oil prices have helped boost the US economy, while warning that inflation was below target.
In a statement released at the conclusion of the meeting, the Fed said it would take into account a "wide range of information, including measures of labour market conditions, indicators of inflation pressures and inflation expectations, and readings on financial and international developments" when determining the appropriate time to raise rates.
"The changes in today's policy statement were limited and not substantive - the most important message continues to be that the Fed is still in no hurry to raise rates," said Ward McCarthy, chief US economist at Jefferies, in a note to clients.
US markets were mixed after the release of the statement, but US crude oil fell to $44.08 per barrel, its lowest level since 2009, after the Fed commented on the price of oil.
Timing is everything
Most analysts believe that the Fed will not raise rates at its next policy meetings in March and April, putting the earliest timing of a rate rise in June.
Last Updated at 16 Feb 2018, 21:30 GMT
*Chart shows local time
price
change
%
61.55

+

+0.38

+

+0.62
The Fed has kept interest rates low to stimulate the US economy as it recovered from the financial crisis.
However, now that corporate earnings are once again booming and low oil prices have put more money in consumers' pockets, that extra stimulus is not as necessary.
The crucial challenge for Fed chair Janet Yellen and her fellow central bankers is to figure out when to raise rates.
Historically, the Fed has been overly optimistic in predicting future US growth in the wake of the crisis, leading to premature efforts to pull back on stimulus programmes.
If the Fed does raise rates too soon, in runs the risk of hurting the US economy, by making it more expensive to borrow money.
Inflation puzzle
A crucial factor in determining a rise will be what happens with inflation in the US economy, as weak consumer demand and cheaper oil push inflation below the Fed's target of 2% in the "medium term".
That begs the question of whether the Fed will raise rates even if inflation is below expectations, as well as how long the "medium term" is in the Fed's view, adds Mr McCarthy
"We know that in the long run we are all dead," he says.
"Does the medium term imply that we will be approaching the end of the line before we see 2% inflation again?"