Nintendo slashes full year operating profit target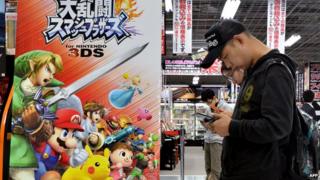 Nintendo's operating profit grew nearly 50% in the last quarter but it was not enough to keep the video game-maker from slashing its full year target.
The firm's operating profit hit 31.8bn yen ($269m; £177m) from October to December, but it still cut its earnings target for the fiscal year to March.
It now expects to make 20bn yen down from 40bn yen, which is also well below market expectations.
The profit warning sent its shares down nearly 9% in Tokyo on Thursday.
The Japanese tech giant also slashed its annual console sales target by 25% to 9 million after sales of its 3DS consoles fell nearly 40% in the period from a year ago.
Consoles face competition
Sales of the 3DS consoles, with the latest version launched in October, got off to a good start in Japan, the company said in a statement.
"However, as sales of the Nintendo 3DS hardware in the United States and in Europe did not grow sufficiently, the global sales of the Nintendo 3DS family hardware were 7.08 million units."
The maker of hit games like Super Mario Bros has faced stiff competition from console rivals such as Sony and Microsoft at a time when mobile games are gaining popularity.
But a sharply weaker yen is expected to inflate its net income this year, because over 70% of Nintendo's sales happen outside of Japan.
The company is still hoping to post its first annual operating profit in four years.