House price growth continuing to slow, surveys show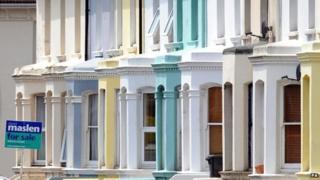 House price inflation is continuing to slow, according to the latest results from two leading surveys.
The Land Registry said prices in England and Wales in the year to December rose 7%, down from 7.2% in November and the fourth month in a row that the annual rate has fallen.
The Nationwide building society's latest survey shows a similar picture.
Although it found UK house prices rose by 0.3% in January, the annual rate of growth slowed to 6.8%.
The Nationwide said the average UK house price was £188,446 in January, while the Land Registry found the average house price in England and Wales to be £177,766 in December.
Both sets of figures show that average house prices have been at a plateau since last summer.
The Nationwide said the reasons for the slowdown in housing market activity since then "remain unclear", as the economic background has in fact continued to improve.
"Annual house price growth continued to soften at the start of 2015," said Nationwide's chief economist, Robert Gardner.
He said the number of mortgages approved for house purchase had been about 20% below the level prevailing at the start of 2014 and surveyors continued to report subdued levels of new buyer enquiries.
House price calculator
Use our calculator to see where you can afford to rent or buy
Sales easing
Property commentator Henry Pryor said he expected this slowdown to last at least until after the forthcoming general election.
"The heat is clearly coming out of the market but it is too early to tell what effect the stamp duty changes announced in the Autumn Statement may have," he said.
Both surveys chime with the recent data from HM Revenue & Customs (HMRC), whose monthly figures for the whole of the UK show that sales eased off in the final few months of last year.
One explanation for the cooling of the property market is that its recent peak in late 2013 and early 2014 was temporarily stimulated by government initiatives such as the Funding for Lending Scheme (FLS) and Help to Buy.
Some of the pent up demand from earlier years, when obtaining a mortgage was very difficult in the aftermath of the 2008 banking crisis, may now have been partly exhausted.
And the renewed increase in prices of the past few years, which has vastly outstripped the growth of earnings, has again pushed homes beyond the grasp of many would-be buyers.
But Mr Gardner was optimistic that sales would soon pick up again.
"If the economic backdrop continues to improve as we and most forecasters expect, activity in the housing market is likely to regain momentum in the months ahead," he said.
"It is encouraging that the number of new homes built in England was up 8% in the year to the third quarter of 2014."
The interactive content on this page requires JavaScript