Royal Mail chairman Donald Brydon to step down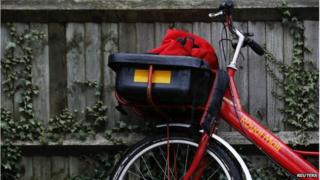 Royal Mail chairman Donald Brydon is to step down, the company has said.
Mr Brydon, who oversaw the controversial privatisation of the postal company and has been in the post since 2009, will remain in the job until at least the summer.
He said he was "proud of what Royal Mail has achieved as a company in the last six years".
"Our transformation is well underway and we are now a FTSE 100 listed company," he added.
The company said it had started the process to appoint Mr Brydon's successor.
Moya Greene, Royal Mail group chief executive, said: "Donald has played a key role as chairman during one of the most eventful periods in our history. I would like to personally thank him for his support and counsel."
Mr Brydon was reappointed to the post of chairman in 2012, and paid £200,000 a year for working at least two days a week.
Last week, Royal Mail reported it had delivered 120 million parcels in December, a 4% rise on the previous year.
In the past nine months, the number of letters delivered fell by 3%, but parcel deliveries were up 3%.