When 40% revenue growth isn't enough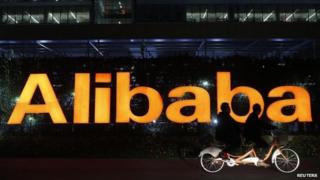 Alibaba, the world's largest e-commerce firm, has reported annual revenue growth of 40% in its debut report since its record-breaking share flotation. That would be impressive for most companies, but the $4.2bn earned fell short of analysts' expectations of $4.4bn.
However, earnings per share beat consensus forecasts at 81 cents versus 75 cents, and the margin on earnings rose to 58% from 50.5%. Alibaba says that gross merchandise sales volumes rose by 49% with active buyers up 45% from a year earlier on its Chinese retail sites.
Notably, mobile transactions now account for 42% of Alibaba's business, more than doubling from a year ago when it was 20%. The company says that active mobile users have nearly doubled to 265 million from 136 million a year ago.
Those would seem to be impressive figures, but Alibaba shares fell as much as 8% in pre-market trading on the missed revenues.
A rare public dispute with the Chinese regulator may also be casting a shadow on the company. The SAIC, the State Administration for Industry and Commerce, in a white paper said that Alibaba's biggest e-commerce platforms not only sold fakes, but that the company turned a blind eye to counterfeit goods, and accused Alibaba of "misconduct". Alibaba says it is combating counterfeit goods sold by vendors on its various websites.
The SAIC said that this discussion with Alibaba over its practices occurred two months before its Initial Public Offering (IPO), but the regulator has only brought it to light now.
Well, sort of, since the report has since been taken down from the SAIC's website.
The spat with the SAIC may reveal the Chinese government using one of its most prominent companies to set an example to showcase its commitment to crack down and protect intellectual property rights, an ongoing area of dissatisfaction expressed by foreign firms in particular and increasingly by Chinese ones.
In any case, Alibaba's share price has come under some pressure as a result over the past two days - dropping some 4% yesterday when the SAIC report was released. Still, at about $90, it is still considerably above the IPO price of $68 from last September.
What Alibaba is now experiencing is what other listed firms regularly face - the need to meet market expectations and address bad news, particularly on the regulatory front.