Micromax 'overtakes Samsung in India smartphone sales'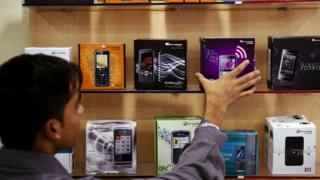 Samsung has been overtaken as the largest seller of smartphones in India by local budget brand Micromax for the first time, according to market research firm Canalys.
Micromax accounted for 22% of India's smartphone shipments in the three months to December, its figures showed.
Samsung's market share fell to 20%.
India is the world's third-largest smartphone market and many users are upgrading to smartphones for the first time from basic handsets.
More than a quarter of all shipments were for smartphones that cost less than $100 (£65).
As a result, phone makers have rushed to produce basic but affordable smartphones that can appeal to different income groups.
"Catering to local market preferences will become increasingly important," said Canalys analyst Rushabh Doshi.
"Micromax has been quicker than its competitors to improve the appeal of devices, for example, by including a wide variety of local languages on its Unite phones.
"But vital to success is selling these handsets at low price points to appeal to the bulging mid-level income market in India."
---
Analysis: Simon Atkinson, BBC News, Mumbai
When I moved to India about a year ago and turned on the hotel room TV, the first advert I saw was for a brand I'd never heard of. It was Micromax - with a (fairly cheesy) ad fronted by the Australian actor Hugh Jackman.
The company's aggressive marketing assault - where it has also ploughed cash into cricket sponsorship - has helped it grab market share. But the more important factor has been its pricing. Millions of Indians are upgrading to smartphones every month and the firm has released dozens of handsets specifically targeted at different types of Indian consumers.
Though the phones are still made in China, Micromax has become an Indian success story. Rivals like China's Xiaomi are snapping close at its heels, however, but the brand still looks well-placed in the country's booming smartphone market.
---
Micromax, which is based near Delhi, has seen brisk sales of its flagship line of products such as the Canvas Nitro and Canvas Hue phones.
Nearly 22 million smartphones were sold in India during the period, a 90% increase from a year earlier.
Aside from Micromax and Samsung, domestic vendors Karbonn and Lava are also key players in the Indian smartphone market.