Tesco sales return to growth for first time in a year, survey suggests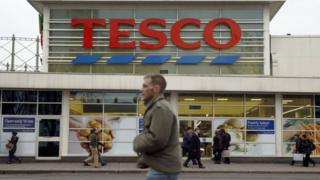 Tesco has seen sales growth for the first time since January 2014, a survey by the research firm Kantar Worldpanel suggests.
Tesco increased sales by 0.3% for the 12 weeks to 1 February compared with the same period last year, Kantar said.
"Britain's largest retailer is bouncing back from a tough year," the firm said.
But the survey suggested that the supermarket giant continued to lose UK market share.
Meanwhile discounters Aldi and Lidl and high-end supermarket Waitrose saw rises in sales and market share.
Tesco 'returns to growth'
Chief executive Dave Lewis's efforts to overhaul the supermarket chain attracted an "additional 236,000 shoppers into its stores in the last 12 weeks," said Fraser McKevitt, head of retail and consumer insight at Kantar Worldpanel.
But Tesco's overall market share fell to 29%, down from 29.2% last year, he added.
The UK's biggest supermarket warned earlier this month that 43 stores would be shut as part of plans to cut costs.
The supermarket giant has seen two successive years of falling profits, and an accounting scandal, which saw Tesco overstate its profits by around £263m.
---
Analysis: Emma Simpson, business correspondent
At last, there's something to cheer about for Tesco boss, Dave Lewis. The UK's biggest supermarket is back in growth for the first time in a year, according to the closely watched Kantar Worldpanel supermarket share figures.
Tesco pulled in an extra 236,000 shoppers through its doors during the last 12 weeks. Price cuts and the hiring of some 6,000 extra staff to improve customer service, appear to be having an impact.
But it's still early days. Kantar says that the overall market grew by just over 1%, meaning Tesco's market share is still falling.
Once again, it's Aldi, Lidl and Waitrose which are powering ahead. Although the discounters have seen their breakneck growth start to slow, all three retailers are still growing faster than the big four established players.
---
According to Kantar's research, UK shoppers saved £327m in the 12 weeks to 1 February because of the ongoing supermarket price war.
Fierce price competition pushed down like-for-like supermarket grocery prices by 1.2%.
This is the biggest price fall since the survey began in October 2006, Kantar Worldpanel said.
But low fuel and grocery prices pushed overall sales at supermarkets up by 1.1%.
Discounters Aldi and Lidl continued to take market share from the "big four" supermarkets, increasing by 0.8% and 0.4% respectively in the period.
Aldi saw sales increase by 21.1%, and Lidl saw sales up by 14.2%.
However, the discounters' rate of sales growth has slowed compared with peaks April and May last year, Kantar Worldpanel said.
High-end supermarket Waitrose saw sales rise of 7.2%, taking its overall market share to 5.2%.