UK industrial output falls 0.2% in December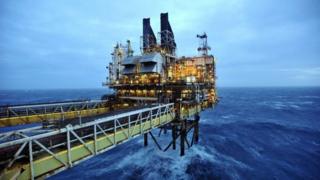 UK industrial output fell 0.2% in December, partly hit by maintenance work on North Sea oil and gas fields, according to official figures.
Compared with a year earlier, industrial output was up 1.7%.
However, manufacturing growth of 0.1% in the month surprised economists, who had forecast a 0.1% decrease.
The Office for National Statistics (ONS) said monthly output was hit by a 1.4% fall in mining and quarrying output.
The main contributor to the monthly fall in industrial output came from falling mining and quarrying output, of which oil and gas played a big part, the ONS said.
In particular, extended maintenance work on the Huntington field in the North Sea, operated by E.on, which had been scheduled to be completed in November, carried on into December.
The ONS said lower oil prices had not yet had a clear impact on output, but that the Department for Energy and Climate Change was forecasting a possible effect in the first three months of 2015.
The main contributors to the increase in manufacturing output were computer products; the manufacture of aerospace equipment; and the manufacture of food products, ONS said.