Halliburton to cut up to 6,400 jobs as oil price falls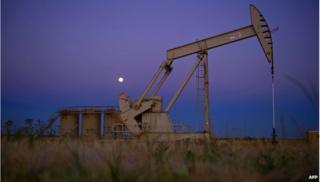 US oilfield services firm Halliburton has said it will cut up to 8% of its global workforce of 80,000, citing a "challenging market environment" as the oil price continues to tumble.
Halliburton says the cuts will be across all operations of the company.
Shares in Halliburton - the world's second-largest oilfield services company - fell nearly 3%.
The oil price has nearly halved since June as a global supply glut and weak demand push prices down.
"We value every employee we have, but unfortunately we are faced with the difficult reality that reductions are necessary to work through this challenging market environment," said Halliburton in a statement to the BBC.
Halliburton had previously announced that it was planning job cuts in a conference call to discuss earnings on 20 January.
The company reported fourth quarter profits of $901m (£591m), a 14% increase from the same period a year earlier.
Dave Lesar, chairman and chief executive officer, warned in a statement accompanying earnings that it was "clear that 2015 will be a challenging year for the industry".
Halliburton said the job cuts total includes previously-announced plans to trim 1,000 jobs outside the US.