Rio Tinto announces $2bn share buyback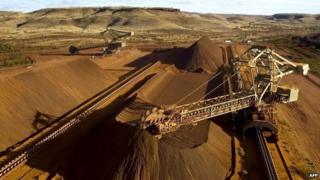 The world's second biggest miner, Rio Tinto, has announced a $2bn share buyback despite profits being hit by falling commodity prices.
Rio reported a 9% fall in full-year underlying earnings to $9.3bn.
The company has faced pressure to please investors after a takeover attempt by rival Glencore last year and it has cut costs, capital spending and debt.
The group has also raised its dividend to shareholders by 12%.
"With lower commodity prices and uncertain global economic trends, the operating environment remains tough," said chief executive Sam Walsh.
"However, in these conditions, Rio Tinto's qualities and competitive advantages deliver superior value."
The price of iron ore has fallen from its peak of nearly $200 a tonne in 2011 to about $61 a tonne this year
Rio Tinto's Australian shares have fallen 13% over the last year on the London market, while there has been a 2% rise in the FTSE 100 index overall.