Man United revenues fall after Champions League failure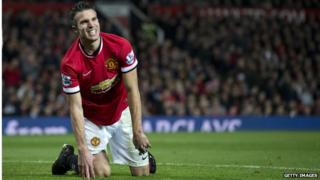 Manchester United has said that its revenue fell by 12.2% to £194.4m for the six months to the end of December.
The Old Trafford club lost out on payments from Nike for failing to qualify for the Uefa Champions League.
Sharp falls in broadcast and match-day revenues meant profits for the six-month period were down 52%, at £8.9m.
The club said the decline was offset by a 23% increase in sponsorship revenues to £35.8m.
The club announced two new sponsorship deals in the last three months, with drinks company Chi in Nigeria and Chinese neutraceutical group IVC (Aland).
Club boss Ed Woodward said: "Notwithstanding no European football this season, our revenues... remain strong.
"On the pitch, the team is well positioned to challenge for a top-four finish in the Premier League and we look forward to the rest of the season."
The 20-time English champions finished only seventh in the Premier League last season under David Moyes, who took over from the club's hugely successful manager Sir Alex Ferguson.
That meant the three-time European champions did not qualify for the Champions League or even the continent's second-tier competition, the Europa League.
This season, with Dutchman Louis van Gaal as manager, they are on track for a top-four finish that could put them back in the Champions League.
Richard Hunter, Head of Equities at Hargreaves Lansdown Stockbrokers, said: "Things may be improving on the field, but this is not a quarter to be remembered."
Marketing machine
He said the lack of Champions League football had led to a 39% decline in broadcast revenues and there had also been a 6% increase in operating expenses.
"Even so," said Mr Hunter, "the Manchester United marketing machine remains in full drive, with a near 10% increase in commercial revenues for the [last three-month] period and an overall profit for the half-year, albeit lower than the prior year."
Manchester United will also benefit from its share of the £5.14bn Premier League broadcasting rights package agreed with Sky and BT for 2017-19.
Shares are up 13% on the year, but are still 12% below the high they reached in the middle of last year.
The club said it expected to hit its target revenues for the whole year of between £385m and £395m, around £40m below last year.
United are third in the Premier League, 11 points behind leaders Chelsea, and travel to League One Preston on Monday for an FA Cup fifth-round tie.