Your Money: Cashing in on holiday currency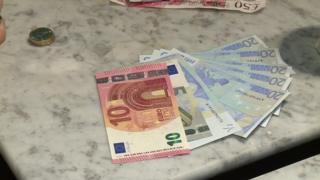 As you plan ahead to your holiday, flights and accommodation are not the only elements that need organising in advance.
Planning where, and when, you get your holiday cash could save you money.
Time is of the essence.
The euro is currently at a seven-year low against the pound.
In fact, in the last year alone the euro has become 10% weaker and that translates into an extra £10 of spending power for every £100 that you spend in the eurozone.
So how can you take advantage of today's good rate?
Pre-paid cards
One way is to buy your currency through one of the increasingly common pre-paid cards.
These let you buy your euros at today's exchange rate, but one which will usually be better than that offered in a bank.
You pay now for the euros, or any other foreign currency, and they are loaded onto your card.
The cards are then ready for immediate use, at an ATM or even in a shop, and you get the certainty of locking in today's rate.
But this also means you are taking a small gamble on the foreign exchange markets.
You may be assuming that the euro is at its weakest point and will not become any weaker.
You might be wrong and could miss out on further potential gains.
"Our advice is to pre-pay up to 50% of your holiday cash when a rate seems good," says Rupert Lee-Browne, chief executive of Caxton FX, one of the bigger providers of cash cards.
"Clearly with the euro at a seven-year low, you are getting a relatively good rate even if the euro weakens further."
Up and down
Mr Lee-Browne expects even more volatility in the exchange rate between the pound and the euro in the next few months.
"The situation with Greece's debt burden is still very uncertain," he says.
"In addition, we have elections here in Britain in May. Political uncertainty nearly always means currency volatility."
Paying for 50% of your holiday money several weeks before you go on holiday can also help you budget better for your trip.
But before you obtain one of these cards, do some research.
Some providers have fees for ordering the card in the first place, or charges for leaving cash on the card longer than a certain period of time.
To find the best rates and lowest fees you could use financial price comparison websites such as Moneyfacts, or try firms which are members of the Association of UK Payments Institutions (AUKPI).
A better deal
When you buy your holiday cash is clearly important, but where you buy it from is also crucial.
A general rule is the closer you get to the airport, the worse the rate you will be offered.
This week a Gatwick airport money changer offered 120 euros for £100.
By contrast, on average high street banks in London were offering 128 euros.
However, specialist travel credit cards and pre-paid cards were offering in excess of 130 euros in exchange for £100.
Every bank, bureau de change or credit card will set its own exchange rate.
So shopping around for the best price could mean a big difference to how many euros you get for your pounds.
The Post Office and several big retailers also sell foreign currencies in-store and offer better rates than most High Street banks.
Marks and Spencer and Tesco are two that are well known.
It may be worth haggling. High street banks are unlikely to negotiate, but bureaux de change may be willing to round up exchange amounts or take off commission fees.
Conventional plastic
Most debit and credit cards have a foreign exchange usage or "load" fee.
This means you pay as much as 3% on any money you take out abroad.
Check whether your card charges this fee and if it does, avoid using it.
"There are many specialist travel credit cards that offer great rates and don't have hidden [foreign exchange] load fees," explains Sue Hayward, a personal finance expert.
"Halifax Clarity is a good card. The Post Office has a good one too that offers you a perfect exchange rate."
Another golden rule for spending abroad is always to pay in the local currency.
Whether paying by card or with cash, if you are given the choice to pay with pounds or euros in the eurozone, always chose euros.
It means your bank sets the exchange rate you pay eventually, not the retailer you are shopping with at the time and so you are likely to get a much better deal.