Aer Lingus ups support for IAG deal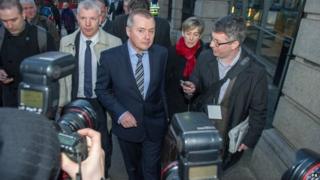 Aer Lingus has reaffirmed its support for a £1bn takeover offer from British Airways owner, International Consolidated Airlines Group (IAG), saying it believes the deal makes commercial sense.
The Irish airline talked up the deal following meetings with the Irish government earlier this week.
It said it believed the deal was in the best interests of shareholders.
The Irish government is thought to have raised concerns about the takeover.
Last month, Aer Lingus said the takeover offer was at a level that the board would be willing to recommend to shareholders, subject to being "satisfied with the manner in which IAG proposed to address the interests of relevant parties".
The Irish government owns a 25% stake in the airline, while Ryanair also holds shares in the airline.
IAG chief executive Willie Walsh also visited Dublin as part of a two-day charm offensive, during which he held a three-hour question-and-answer session with politicians concerned about the takeover.
Mr Walsh dismissed trade unions' allegations that there would be 1,200 job losses at Aer Lingus if the IAG offer were accepted by the Irish government.
Benefits
He said, in fact, 500 jobs could be created, including new pilots, cabin crew, engineers and mechanics.
Without the backing of the Irish government, Aer Lingus can only make a qualified recommendation. But the Irish government remains unconvinced by the benefits of the deal.
Aer Lingus chairman Colm Barrington said: "Over recent weeks, the board of Aer Lingus has listened carefully to the public debate which has taken place regarding IAG's proposal.
"We have had further detailed discussions with IAG and the board has a greater understanding of IAG's intentions for the future of Aer Lingus and the proposed commitments that IAG is prepared to make in relation to Aer Lingus.
"These discussions have further confirmed that it is clearly in IAG's interests to continue to grow Aer Lingus within the IAG.
"The board's view is therefore that a combination of Aer Lingus with IAG has a compelling strategic rationale and will deliver significant benefits for Aer Lingus, its employees, its customers and for Ireland."
In the statement, Aer Lingus offered more detail than its original recommendation, It said Ireland would become a hub for connections, while the deal would accelerate Aer Lingus's planned transatlantic growth and create new jobs.