Commodity firm Noble rejects accounting allegations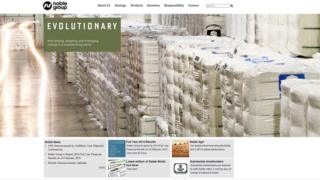 One of Asia's biggest commodity-trading firms, Noble, has said that it "completely rejects" allegations made by a research firm over its accounting practices.
A 17-page report by Iceberg Research posted online alleges that Noble "uses accounting loopholes".
The Singapore-listed shares of Noble fell by as much as 10% on Monday.
This caused the stock exchange to send the firm a formal query over the unusual price movement.
Noble said that "save for the report, the company is not aware of any other possible explanation of the trading".
"All material information to which Iceberg Research refers is in the public domain. There has been no material adverse change since the company last reported," Noble said in a statement to the Singapore stock exchange,
"The company reserves its rights against Iceberg Research."
Not much is known about Iceberg Research, which refused to reveal its location or employee size when contacted by the BBC.
Using a generic email account, it told the BBC "we may give more information on us later on but we would like people to focus on the strength of the arguments for the moment".
"We are experienced in analysing financials. We do not make bold or provocative statements. We think there is a need for 'short' research but it should be done in a solid way."
"We do not have any short position (directly or not). We have not sold this report. We have not sold any of the two next reports. To make it very clear, we do not make any money from this (at any level). If this changes, we will advise the market."
Iceberg Research says in its report that Noble's investment grade rating is "definitely not justified".
Short sellers
This is not the first time a major commodity company has been the subject of market speculation.
In 2012, Singapore agricultural commodities trader Olam International saw its shares lose more than a quarter of their value in a month after being targeted by US short seller Muddy Waters.
Muddy Waters founder Carson Block, who became famous for shorting Chinese companies, had called into question Olam's accounting methods.
The Singapore firm later took legal action against Mr Block but also undertook a major restructuring aimed at cutting its debt.
Nicholas Teo, an analyst at CMC Markets in Singapore, said the situation Noble faces was "uncannily similar" to what Olam faced a few years ago.
"The mystery surrounds who Iceberg's principals are, since they have preferred to remain anonymous."
Hong Kong-based Noble is scheduled to announce its annual results on 26 February. The firm generates more than 60% of its revenue from oil and coal trading.