Mortgage lending dips again in January, says CML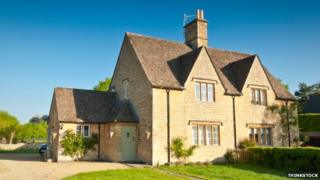 Mortgage lending across the UK continued to fall in January, according to figures from the Council of Mortgage Lenders (CML).
Homeowners borrowed £14.3bn last month - an 11% drop on the same month in 2014, and the lowest figure since April 2013.
January's figure also marked a 14% fall from the £16.6bn lent in December.
However, January is typically a slow month for the market, and the CML figures are not seasonally adjusted.
But the CML still expects lending to grow by 9% throughout 2015.
"Although seasonal factors will continue to weigh on activity levels for a while longer, we expect the underlying picture to pick up over the coming months," said Bob Pannell, the CML's chief economist.
In 2014, lending grew by 14%.
Other experts agreed that the market is likely to pick up as the year goes on.
"Despite the weak January CML gross mortgage data, we believe that the weakness in housing market activity is close to bottoming out," said Dr Howard Archer, the chief European and UK economist at IHS Global Insight.